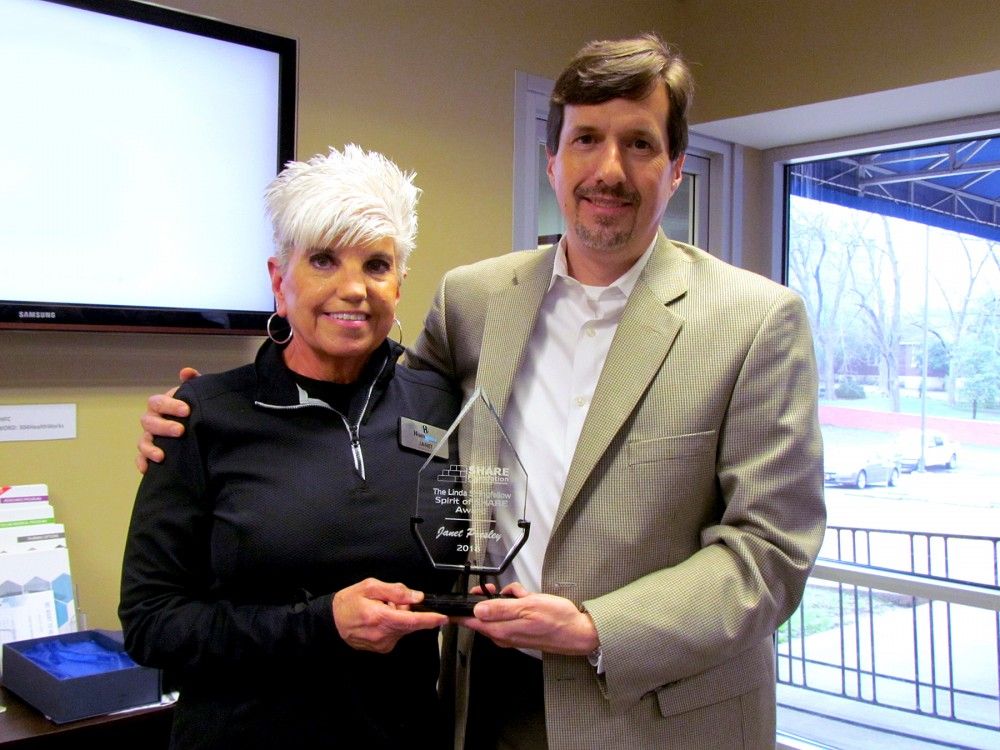 At the SHARE Foundation Annual Employee Meeting, Dr. Brian Jones, President and CEO, announced the "Linda Stringfellow Spirit of SHARE" Award winners for 2018.
The "Spirit of SHARE" Award was created in 2004 to recognize employees of SHARE Foundation who go above and beyond their everyday duties. In 2017 the award was renamed in honor of retiring SHARE President/COO Linda Stringfellow to the "Linda Stringfellow Spirit of SHARE" Award.  Employees who have been with SHARE for at least one year are eligible with the exception of the President/CEO. Nominees are made by fellow SHARE employees and the nominees are evaluated on their willingness to go the extra mile, as well as exhibiting integrity, motivation, professionalism, adaptability, compassion and teamwork. An anonymous committee of the SHARE Foundation board reviews the nominations and makes the selections. This year there was three finalists and one winner who exhibited the "Spirit of SHARE." The three finalists received an engraved glass paperweight as well as an extra day of paid vacation.
The first finalist is Richard Massey, SHARE Foundation Environmental Services. Richard was described as very friendly and welcoming to everyone that enters HealthWorks. He sets the standard with his teamwork and dedication to our facility and members which is evident to anyone who comes into the building. When anything happens at the facility and we need a solution quick, he's there to help within minutes without neglecting his other tasks for the day. You can tell making HealthWorks look as good as possible for the members is Richard's first priority; he takes pride in what he does. Sometime all you need is a little smile to keep pushing during the day. No matter what kind of day Richard is having or how busy he is, he will stop, and speak and smile.
Our second finalist is Britney Snell, Vice President of Finance. Britney is 'a by the book person' and believes rules are made to follow. She is up front and honest at all times and yet always offers an encouraging word and never talks down to anyone. She takes the time to teach and guide in any capacity she can. Britney does her job to a higher standard always. She strives to be better with each new challenge and is not satisfied with just enough. She also has the uncanny ability to gauge the strengths and weaknesses of those she deals with. She works to their strengths and makes each one feel more accomplished in what they do. Britney makes people feel like they matter and what they do matters to SHARE. One reason she is so motivated is because she LOVES what she does and she loves SHARE Foundation.
The third finalist is Tyler Turner, Life Touch Hospice Outreach Coordinator. Tyler was described as someone who goes the extra mile to make things better for everyone working around him. And regardless of the situation, he remains composed and does his best to work with the situation and to make others comfortable as well. "I have never heard him say anything negative about even the worst of circumstances," says a co-worker. "He is often the person to remind others of the "positives" in a situation."  Tyler's heart for hospice care is inspiring. And this shows in the way he talks and works with people in all types of environments and age groups, fitting in everywhere. He lives in the moment, giving you the feeling that you matter.
The overall 2018 Linda Stringfellow Spirit of SHARE Award winner is – Janet Presley, HealthWorks Fitness Program Director.
Janet was described as someone who never asks anyone to do anything she will not do herself. She says she can't expect her staff to work hard unless she does the same or more. She is the first person to ask if she can help someone even if it means she will work harder or later. She fills in nights and weekends when needed and works holidays so her team can have time with their family.
Janet never has a bad word to say about anyone, or any part of her job. She always looks the part, and acts the part and always teaches with enthusiasm even at 5 a.m. She always shows compassion and empathy toward members and staff, speaking to everyone that she comes in contact with asking if she can help them in any way. And she goes the extra mile to help members who struggle with chronic illness, always listens attentively and responds with words from her heart.
Janet received an engraved plaque and an additional week of paid vacation. Congratulations to all our 2018 Linda Stringfellow Spirit of SHARE award winners.