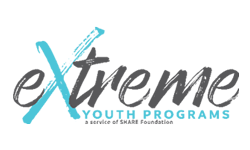 Programs
---
R.E.A.L. Training (Paused temporarily) 
Responsible Educated Adolescent Leaders
Drug information made interesting - now there's a twist. Up-to-date facts are presented on alcohol, tobacco and other drugs in such a fun way that students enjoy learning.  R.E.A.L. is great for student members of drug-free youth groups, peer leadership groups, student government and youth boards.
C.H.A.M.P.S. (Paused temporarily) 
Champs Have And Model Positive Peer Skills
eXtreme Youth Programs are firmly committed to the concept that all students have leadership abilities and leadership is best developed through active use. During C.H.A.M.P.S. training, upper elementary students develop a more positive self-concept, gain leadership skills, increase their level of motivation and build skills to enhance their creativity.  C.H.A.M.P.S. also teaches appreciation for working as a team to address school and community challenges.
eXtreme
eXtreme is a drug prevention program that trains 8th through 12th grade students to take the lead in drug and violence prevention. Through community outreach, drug education, drug-free activities, community service and social and emotional awareness, eXtreme encourages students to reach out to their peers, younger students and the community with an assertive drug-free and violence-free message.
ECHO Challenge
ECHO Challenge is an exciting program that promotes opportunities for positive peer relationships and collaboration. ECHO Challenge emphasizes the importance of cooperation, support, relationships,  leadership and communication in promoting healthy lifestyles and deterring self-destructive behaviors.